Ferndale Repertory Theatre Today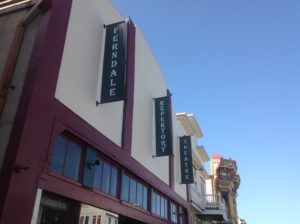 Ferndale Repertory Theatre, affectionately FRT, is now in its 44th year, making it the oldest (and largest) of the North Coast's resident community theatres. The company, which began as Ferndale Little Theater in 1972, is housed at the Hart Theatre building, built in 1920 in the Victorian Village of Ferndale.
Through the leadership of Artistic Producing Director Leira V. Satlof, a dedicated Board of Directors, and a county-wide cadre of multi-talented volunteers, FRT is a vibrant part of Humboldt County's performing arts scene, producing multiple main stage productions throughout the year, as well as a number of special events.
A Little Bit of History
In the early 1970s, the remote village of Ferndale, California experienced an artistic boom, with dozens of artists settling and working in the town. A small band of these newer Ferndale residents took an interest in the shuttered Hart Theatre: a cinema house built in 1920 for silent films, touring vaudeville acts, and talking pictures, but which had closed it doors in 1956. Through the remarkable volunteer efforts of neighbors, business owners, farmers, ranchers, and even Navy personnel, the Ferndale Little Theatre was founding in 1972. It would later be rebranded as Ferndale Repertory Theatre in 1979.
Tom Dimmick, owner of the Hart Theatre building, was an early and strong supporter of Ferndale Repertory Theatre. Mr Dimmick not only helped fund the initial renovation work, but would eventually sell the building to Ferndale Repertory Theatre for far less than market value. When Mr. Dimmick passed away in 1998, the organization learned his will ordered the remainder of the mortgage to be forgiven. The continued success of Ferndale Repertory Theatre is owed to Mr. Dimmick's lifetime of generosity.